Full Sets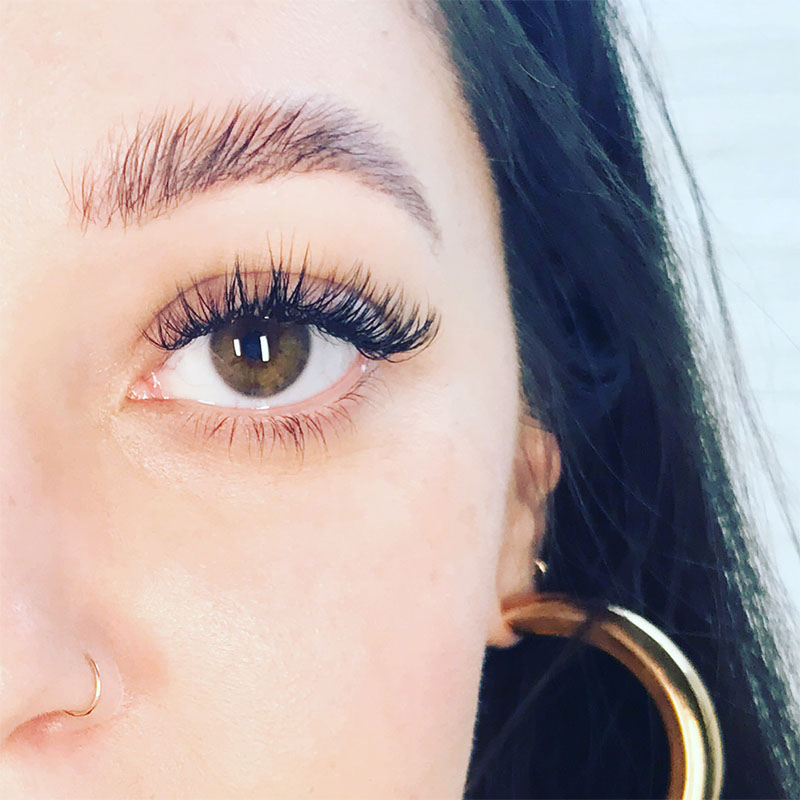 **Add a Mini Facial to your lash service (15 minutes) $40
Cleanse, tone, corrective mask, corrective serums, moisturizer and SPF.
Classic Full Set
1.5 hours / $200
These lashes are single extensions applied one extension per natural lash. Multiple lash weights available for either natural or more dramatic looks. All Natural Lashes are 100% covered in this application. Great for clients with strong natural lashes looking to add length without a lot of volume. Result is a more natural look. View Gallery
Volume/Hybrid Full Set
2 hours / $250
Handmade fans consisting of 2-6 super soft lashes are safely applied to your natural lashes. Dramatic or natural looks can be achieved. Looks are customized to meet your style. Great for professionals, drama lover or mature clients. Recommended if you have fine or sparse lashes and want to achieve a fuller look. View Gallery
Mega Volume Full Set
2.5 hours / $300
For The woman who wants to show off those lovely eyes with a boom! These are the most dramatic lashes out there! The finest lashes available made into mega fans consisting of15-20 extensions per fan and then added to each natural lash. VA..VA.VA..VOOM! View Gallery
Maintenence
Touch-ups are recommended every 3-4 weeks as your natural lashes grow and shed.
Classic Touch-Up
1 hour / $95
Volume/Hybrid Touch-Up
1.25 hour / $110
Mega Volume Touch-Up
1.25 hour / $125
New Client Touch-up
1.5 hour / $150 +
Lash Removal
30 mins / $50
Preparing for your Appointment
On the initial visit:
*Arrive 15 minutes early to fill out paperwork
On ALL visits:
*Come in with squeaky clean lashes and make-up free eyes.
*Remove contact lenses if you wear them.
*Limit caffeine intake before your appointment. Caffeine can cause your eyes to flutter and it will be harder for your artist to attach extensions to your natural lashes.
*Leave pets and children at home.
*Bring your headphones to listen to a book on tape, music or podcast to listen to during your appointment if you desire.
*Plan on laying down for 1 – 2 hours (depending on your service). Plan eating, bathroom breaks and other plans accordingly. Please do not rush your Lash Artist, she is trying to get your lashes as full as possible.
*Allow a minimum of 24 hours to reschedule or cancel your appointment so that the spot may be filled by someone who is waiting to get in.
*Get EXCITED! You are about to get some AMAZING lashes! So plan yourself a date night or girls night!
Home Care
*Wash your lashes with the recommended cleanser EVERYDAY. Please do not use anything else. Using products that are not specifically recommended could contain oil and break down the adhesive, causing extensions to fall off prematurely. There are many cosmetic ingredients that contain oil found in most cleansers. Using only water does not wash your lashes. Dirt, oil and skin cell debris will build up, eventually causing irritation. So again, please wash your lashes everyday. *Not washing your lashes can result in clumping (natural lashes may fall out) and build up of dirt and debris (may lead to blepharitis and other eye irritations).
*Brush lashes everyday AFTER they have dried. Wet lashes weigh more than dry lashes. So if you are brushing them while they are wet, you may be putting too much pressure on the natural lash and causing premature fall out.
*Come to your appointment with squeaky clean lashes. As a lash artist, I want to give my clients the fullest lashes possible. If lashes are dirty, and need to be cleaned at your appointment, it takes away from lashing time. Sad but true. Also, extension adhesive bonds at it BEST to clean lashes. So to get the best retention, and the fullest touch-up, please head to your appointment with squeaky clean lashes.
*Please, please…..DO NOT rub, pick or pull on your lashes. Doing this will breakdown the adhesive bond, and causes the base of your extension to start to lift. When the bases begin to lift it causes irritation and leads to premature extension fall out and possible natural lash loss. This is a RETENTION KILLER.
*DO NOT wear mascara with your extensions. Mascara will break down the adhesive bond holding your extensions on to your natural lash. If you think you need mascara because your extensions are not showy enough, consider upgrading to Volume or Mega Volume lashes and ditch the mascara.
*Sleep on your back. I know this is a hard one! We can't control what we do in our sleep! I've been lashing for many years, and if you sleep on your lashes (natural or extensions), the natural lashes will start to fold inward as your get older, creating a permanent kink in your natural lashes. (I've seen it many times). This leaves room for a very small bonding area on the natural lashes and correction technique during the extension application process is necessary. Unfortunately, correction technique does not last as long as bonding to a healthy, straight lash, so it will affect the retention of your extensions. Sleeping on your extensions will also cause them to look whacked!
*Be careful of extreme heat. Saunas, steam rooms, hot yoga classes, opening the oven with your face in it (yup, this happens), steam from cooking on stovetops and lighters. When extensions come in contact with extreme heat like hot ovens, smoking BBQs and flames from lighters, it will singe the tips of the extensions (just like it would singe your hair). This may not cause them to fall out prematurely BUT if will kink the tips (and your lashes will get kinky..and not in a good way ;). So please be careful. Saunas, steam rooms and hot yoga classes will break down the adhesive and cause premature fall out. So if you're a fan of the hot sweaty boxes, you may want to book your lash appointments closer together.
*Keep ALL oils away from your lash extensions. Did you know that the eyelids are the oiliest part of your face? And they are right above your lash line! Keep your eyelids clean and pat them dry multiple times a day if you have oily skin. You may even need to wash them 2 times per day if you're super oily or wear lots of make-up.
*Schedule your touch-up before you leave your appointment. Most lash artists have busy schedules and will not be able to accommodate you last minute. To ensure that you get your appointment when you need a fill, schedule your next appointment before you leave the salon.
*Recognize the signs of poor lash work. There are things to watch out for, if your lashes aren't lasting and you are following all of the the post care recommendations above, your retention issue could be the fault of your lash artist.
Here are a few things you should pay attention to:
Are your lashes sticking together when you leave your appointment?
Do you feel a tugging or discomfort when you leave your lash appointment?